Kipawa Stitch-and-Glue
Designed by John Winters
Burks Falls, Ontario



Now available in ready-to-build Kits, or with CNC-ready files!!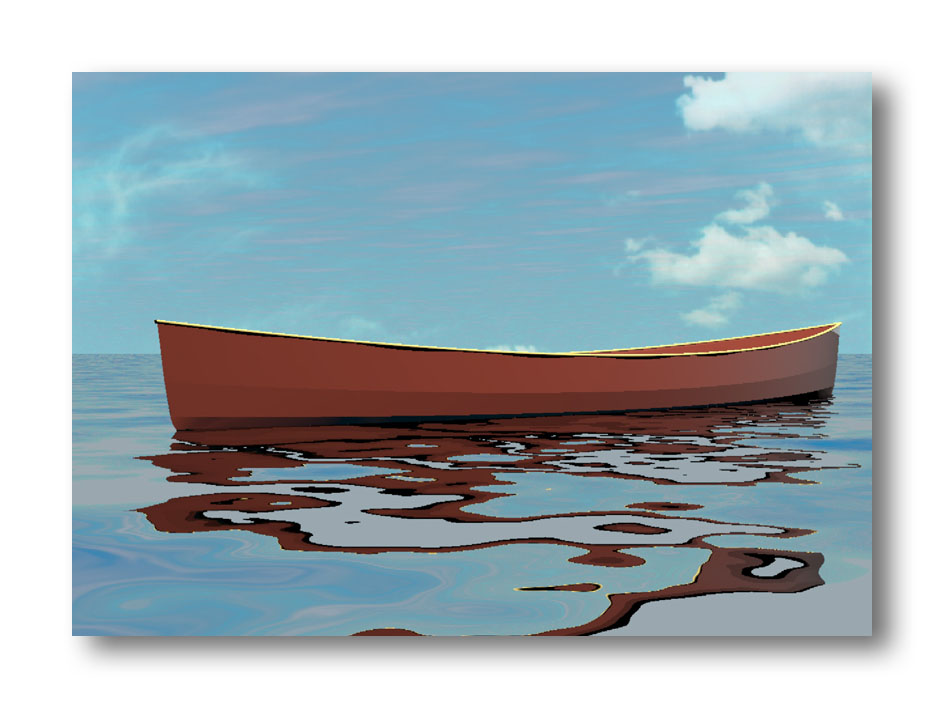 Kipawa Dimensions
Overall Length
16'6"
Waterline Length
16'
Gunwale Width
35"
Waterline Width
32-1/2"
Bow Height
21"
Centre Depth
14"
Stern Height
19"
Bow Rocker
3-1/2"
Stern Rocker
1"
Freeboard @
450 lbs. 9"
---
The Kipawa Stitch-and-Glue
The Kipawa was the forerunner of a new breed of fast, seaworthy and maneuverable tripping canoes designed to meet the modern tripper's needs. For the experienced tripper, the Kipawa offers the big boat feel of a seventeen footer with the ability to go anywhere, even under the most severe conditions, while the novice will still be pleasantly surprised by his control in conditions that would be frightening in other canoes. Kipawa owners have found them to be superb whitewater boats with speed, stability, and responsiveness rarely found outside of dedicated whitewater craft.
The Kipawa was designed to carry between 400 and 500 pounds when tripping but can be a real blast when lightly loaded for day paddling or whitewater. For a real treat, paddle it solo with a kneeling thwart. Now that's real fun! If you can have only one canoe, and the majority of your paddling is devoted to tripping, then the Kipawa should be your choice.
John Winters comments "Out of the hundreds of canoes I have paddled, none has ever been so versatile or so much fun to paddle as the Kipawa. On our first wilderness trip in the prototype, my wife commented that it didn't seem very fast. Only when we arrived at the first portage six kilometres away in much less than an hour did we realize that our sedate 30 strokes per minute made it fly! What we had been missing was the absence of the noisy bow wave and wake normally associated with speed. I believe the Kipawa is the best argument yet for the scientific approach to canoe design."
A few years back, at popular request John converted the Kipawa design to Stitch-and-Glue. This version used a total of 10 full length panels, which allowed the design to conform fairly closely to the cedarstrip version, so the effect on the handling was minimal. However, the plans were difficult for many home builders to execute, due to the need to make scarf joints, and to lay out the complex shapes manually, and then cut them out ever so carefully. This tended to make a project that was supposed to be easy to build, but instead made it if anything, more difficult.
Well now there's good news!! We've put the "easy" back into this project! We now offer an updated design suitable for those who have access to a CNC Router. Each long panel is divided into either two or three shorter panels, with precisely fitted puzzle joints between each pair. There are also numbered tabs on each side of every joint, for easy part identification, and to provide a spot at which you can nail down the assembly until the glue in the joint sets. Then, following the engraved lines you simply trim off the tabs. This design is based on (4) sheets of 4mm Marine Plywood 48" x 98-1/2".
Even better, if you don't have a CNC Router, you can purchase the entire kit with every piece pre-cut, and ready to assemble, from Noah's. You can be gluing joints on Day 1!



---
Order Kipawa S+G Plans
Plans are available in Electronic Format only.
Return to see other available Models.
---