Mattawa
Designed by John Winters
Burks Falls, Ontario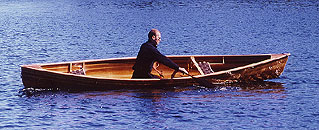 Mattawa Dimensions
Overall Length
15'8"
Waterline Length
15'4"
Gunwale Width
36"
Waterline Width
33"
Bow Height
21"
Centre Depth
13.25"
Stern Height
18.5"
Bow Rocker
2.5"
Stern Rocker
1.75"
Optimum Load Range
290-430 lbs
Freeboard @ 360 lbs.
9"
---
The Mattawa
The Mattawa is a truly extraordinary small canoe. Quick and responsive, it is a delight to paddle in all conditions. Through subtle manipulation of hull shape, John Winters has developed a canoe that is equally at home on flat water or white water. Most surprising is that all this performance comes with a solid, stable feel right over to the swamp point and beyond. For medium and smaller couples, as a graceful cottage canoe or for a weekend getaway, and all those who just plain paddle for fun, the Mattawa is a welcome addition to the canoe scene.
The beautiful Mattawa pictured above is on it's first outing in Killarney Provincial Park, being paddled by the builder, Andrew McIntyre of Toronto. This was Andrew's first ever boat building project. (An interesting sidenote to this story is that I met Andrew and his new canoe for the first time that morning in a chance encounter on Bell Lake as my wife and I were starting a canoe trip. ~ Martin )
Another beautiful Mattawa is the "Cinnamon" which was built by Chuck Phelps of Rochester, NY.



---
Order Mattawa
Return to see other available Models.
---