The Nipissing
Designed by John Winters
Liverpool, Nova Scotia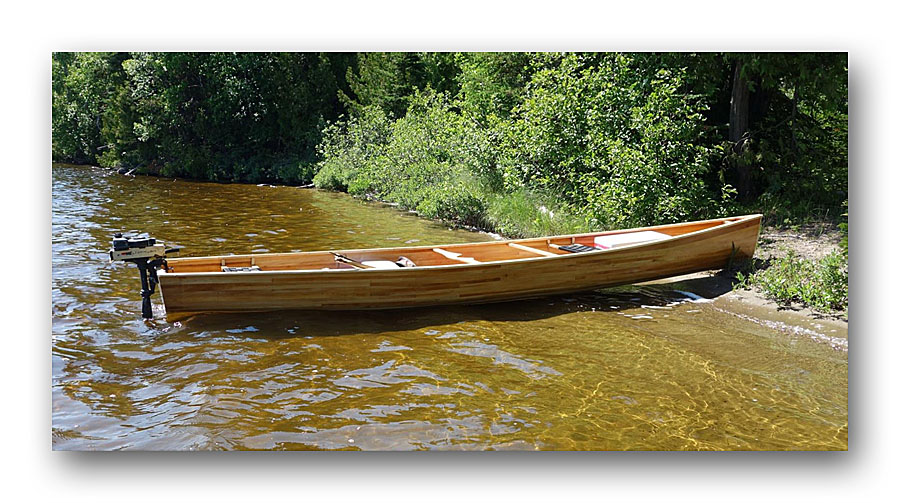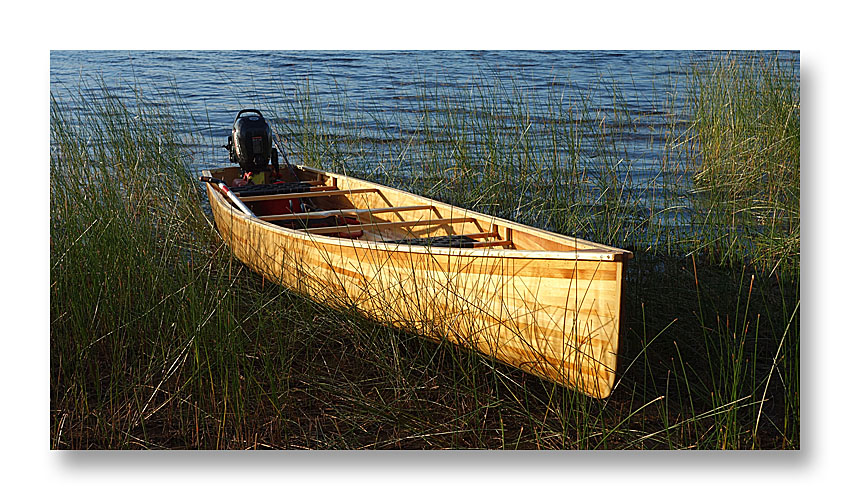 Nipissing Dimensions
Overall Length
15'
16'
17'
Waterline Length
14'7"
15'7"
15'7"
Max. Beam
39-1/2"
39-1/2"
39-1/2"
Waterline Beam
38-3/4"
38-3/4"
38-3/4"
Bow Height
22-1/8"
22-1/8"
22-1/8"
Center Height
15-3/16"
15-3/16"
15-3/16"
Stern Height
16-3/4"
16-3/4"
16-3/4"
Draft
6-1/16"
6-1/16"
6-1/16"
Bow Rocker
3.1"
3.1"
3.1"
Stern Rocker
3.2"
3.2"
3.2"
Designed Displacement
444 lbs
460 lbs
487 lbs
Freeboard at Designed Displ.
9-1/8"
9-1/8"
9-1/8"
Immersion per Inch
152 lbs
162 lbs
170 lbs
---
The Nipissing
The Nipissing answers a question often asked! Square stern canoes are great for us older paddlers, and for hunters and fishermen. With a small outboard, you can get there relaxed and refreshed for whatever the rest of the day has in store! And when you want a some quiet paddling, that's still available with only a minimal loss of efficiency, letting you enjoy the best of both worlds.
The handling characteristics are similar to the Kipawa and Winisk. One noteworthy feature of these plans is that John Winters has provided the principal dimensions for three different lengths, which should satisfy most builders. Since the change in length is achieved by simply changing the station spacing, you can actually build to any in-between length you wish.
The handsome 17'6" canoe in the photo above was built by Rob Haslam from Geraldton, Ontario, using strips cut from readily available local pine for the lower portion of the hull.
Rob says, "My wife and I fish a little lake that starts with a shallow twisty creek. We usually paddle the creek, and I have found it to be very responsive. Tracks well, but gives way to a draw or pry quite nicely. I'm running a 2.5 Suzuki off it right now. With just me and some weight in the front I can hit 13k an hour. I don't think I would go any bigger, as the thought of hitting a rock at that speed is not pleasant. The 17.5 boat I have will carry a heck of a load, probably had close to 700 in it this summer, and it performed like a champ."
Plans for the Nipissing are available in electronic format on CD or by email if you have access to a large format printer, or with full-sized paper plans.
Photo is courtesy of Rob Haslam.



---
Order Nipissing Plans
Return to see other available Models.
---