North Sea
Designed by John Winters
Burks Falls, Ontario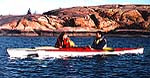 North Sea Dimensions
Overall Length
17'
Waterline Length
16'4.7"
Max. Beam
23"
Displacement
325 lbs.
---
The North Sea
The North Sea is a true expedition kayak. It is designed for controllability without having to resort to a rudder, and for a cruising speed of four knots for the average paddler. The designed displacement of 325 pounds assures adequate storage space for gear. The longer a boat gets, the more sluggish it handles, so 'deadwood' has been cut back at both the bow and the stern. The North Sea handles rather nicely even in lumpy seas.
The photo above shows a production Kevlar version of the North Sea (in red) made by Swift Canoe & Kayak.
The size of this boat makes it less desirable for day paddling, and it is too much of a handful for smaller paddlers. But, if you take long trips or pack heavily, the North Sea is a good boat.



---
Order North Sea Plans
Return to see other available Models.
---