Winisk
Designed by John Winters
Burks Falls, Ontario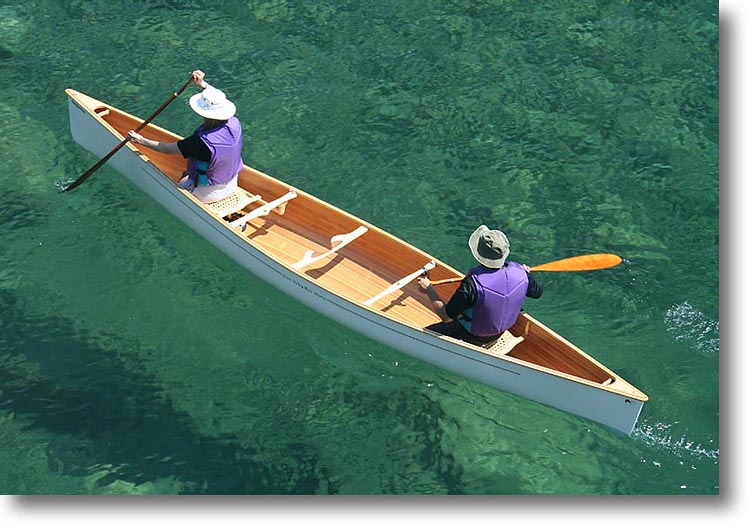 Winisk Dimensions
Overall Length
17'6"
Waterline Length
17'
Gunwale Width
35"
Waterline Width
32-1/2"
Bow Height
21"
Centre Depth
14"
Stern Height
19"
Bow Rocker
3-1/4"
Stern Rocker
1"
Freeboard @
525 lbs. 9"
---
The Winisk
For Canadians, the two week wilderness vacation in a canoe is a tradition. But, paddling into remote wilderness is not a job for the timid nor for half-hearted compromise canoes. For this you need a serious tripping canoe that can carry up to 580 pounds and still be fast and maneuverable. For this, you need a Winisk.
Experienced trippers appreciate speed but not the kind that requires hard work. They want a canoe that can cruise at better than six or seven kilometres per hour at normal paddling rates but still have more speed in reserve in emergencies. They also want the seaworthiness provided by the full length flare for those big lakes like Superior.
Like its smaller sister, the Kipawa, the Winisk is a true multi-purpose canoe. For families with children or those who prefer the security and stability of a larger canoe, the Winisk is the logical choice. It has the safe and secure feel essential for tripping with children, yet rewards the enthusiastic paddler with a rare combination of beauty and performance.
John Winters comments "Every designer has a favourite canoe. For me it's the Winisk. I weigh in at a hefty 200 pounds as do my usual partners, so a larger canoe is essential. At the same time we like to travel fast, and the Winisk's length, shape, and narrow beam provide plenty of speed even when we're loafing along. This canoe reflects what I consider to be an ideal mix of speed, stability, and maneuverability in a big water tripping canoe."
For myself, this is also my favourite canoe design, and I have now built four. The photo on my home page is one of mine, and John Winters also has one of mine in his personal collection. Even though my paddling adventures are not as 'hard core' as John's, I can still attest to the tremendous reserve the Winisk offers that got us through some scary situations when we faced some unexpected rough conditions miles from camp on Lake Superior.
The beautiful canoe pictured above was my most recent Winisk, shown being paddled for the first time in Sinclair Harbour on Lake Superior. This cedar strip canoe was built to showcase alternative finishes, using Epifanes 2-part polyurethane and epoxy primer. Today, fine old-growth western red cedar has become very scarce, and the available woods are often disappointing in their colour and grain. This canoe still shows off its wooden hull to good effect on the inside, while proudly displaying its gorgeous, sleek white exterior to the world. It has been enthusiastically received by everyone who has seen it so far. While it may never replace the look of fine cedar, it is certainly a viable alternative, especially if you are building your canoe from white pine, basswood, white cedar, or any other of the "second-choice" woods.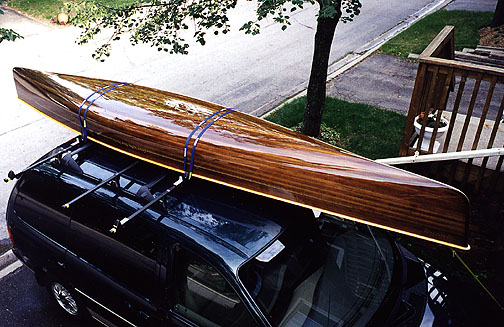 This photo shows my fourth Winisk, the "Agawa Bay", ready for the first leg of its journey to the 1999 Wooden Boat Show in Maryland. It's easy to see the fine lines that contribute so much to the outstanding performance of this design, as well as that of its shorter sister, the Kipawa. You can begin to get an idea of why these two canoes have developed such a fiercely loyal following.


---
Order Winisk Plans
Return to see other available Models.
---