Kipawa
Designed by John Winters
Burks Falls, Ontario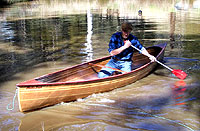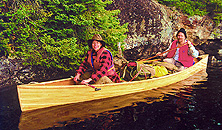 Kipawa Dimensions
Overall Length
16'6"
Waterline Length
16'
Gunwale Width
35"
Waterline Width
32-1/2"
Bow Height
21"
Centre Depth
14"
Stern Height
19"
Bow Rocker
3-1/2"
Stern Rocker
1"
Freeboard @
450 lbs. 9"
---
The Kipawa
The Kipawa is the forerunner of a new breed of fast, seaworthy and maneuverable tripping canoes designed to meet the modern tripper's needs. For the experienced tripper, the Kipawa offers the big boat feel of a seventeen footer with the ability to go anywhere, even under the most severe conditions, while the novice will still be pleasantly surprised by his control in conditions that would be frightening in other canoes. Kipawa owners have found them to be superb whitewater boats with speed, stability, and responsiveness rarely found outside of dedicated whitewater craft.
The Kipawa is designed to carry between 400 and 500 pounds when tripping but can be a real blast when lightly loaded for day paddling or whitewater. For a real treat, paddle it solo with a kneeling thwart. Now that's real fun! If you can have only one canoe, and the majority of your paddling is devoted to tripping, then the Kipawa should be your choice.
John Winters comments "Out of the hundreds of canoes I have paddled, none has ever been so versatile or so much fun to paddle as the Kipawa. On our first wilderness trip in the prototype, my wife commented that it didn't seem very fast. Only when we arrived at the first portage six kilometres away in much less than an hour did we realize that our sedate 30 strokes per minute made it fly! What we had been missing was the absence of the noisy bow wave and wake normally associated with speed. I believe the Kipawa is the best argument yet for the scientific approach to canoe design."
The clean lines of the Kipawa look gorgeous in cedar strip, and its 16.5 foot length will fit in any garage. The bow shape reminds me of the lines on some of the fast 12 metre racing yachts! An added suggestion; if the available wood strips are a lighter shade, and you would rather have a richer, deeper colour of wood, this effect can be easily achieved by means of powdered aniline dye, available in dozens of wood colours from specialty mail order suppliers. Unlike stain, the dyes are totally transparent and let the grain show through.
If you're thinking about building one of our canoes, you might like to read the letter sent to us by Chuck Phelps of Pittsford, NY, telling us about "Rosie", his Kipawa 'stripper'!
The beautiful Kipawa shown above left was built by Ian Noyce of Victoria, Australia. The "Chalka Creek" is built with Huon Pine/Sitka Spruce/Brazillian Mahogany Stems, W.R. Cedar Hull with Huon Pine stripes and Mahogany decks and gunwales. It is just now waiting on the matching Green Valley caned seats and paddles, but Ian was so excited, he just had to try it out anyway. Ian is a guitar maker by profession, and his craftsmanship is clearly evident on this lovely canoe. Click on the photo to see it enlarged - it's a large file, but it's worth it.
At above right is a Kipawa built by Rob Haslam of Geraldton, Ontario. This was about day 8 of a 14 day trip Rob Haslam took this past summer. Rob says "It was loaded, about 250 - 300 lbs of gear alone. Went through some big water, had a lot of fun!" Lookin' good, Rob! He's building another Winisk this winter - we can't wait to see where he takes it.



---
Order Kipawa Plans
Return to see other available Models.
---