Letter from a Kipawa builder...
Friday August 28, 1998
Dear John, Martin and Peter,
This is a note to John Winters (designer), Martin Step (plans) and Peter Schultz (from Classic Boat Kits for the wood and "stuff" for our wonderful new Kipawa). To us, she's Gypsy Rose Lee (since she's a stripper, heh, heh, heh) and short name, "Rosie," which matches the colors nicely. Peter knows that the wood trim is padouk, and it is glorious, albeit slightly heavier than ash. (I calculate that this adds a couple of pounds to the boat compared with ash trim.)
Anyway, after some fits and starts in construction over the spring, we finished Rosie just in time to take her on our Canadian vacation (we were at Mississagi Provincial Park, just up from Lake Huron about 30 km east of Sault Ste. Marie). Rosie's maiden voyage occurred on 8/9/98 (August 8 - I think all you Canadians would write this 9/8/98.) Anyway, it's a memorable number either way.
As the pictures show, this came out to be a fabulous looking boat. John and Martin - thanks for all the design and excellent plans. The trim adds greatly to her, we think. Peter, thanks for all the good wood, including making the 3/4" bead and cove strips in padouk that allowed us to work the design into her hull.
John especially, your comments about the Kipawa are right on target. We can't believe how quietly she goes through the water, and our impression (probably heightened by our excitement from it being our first trip) is that she is very fast. We feel like we are flying through the water, far faster than our old Old Town fiberglass model (which is admittedly more of a river runner design, although we liked it a lot). Once coming back from fooling around up a river with some fly fishing, we decided to troll a line out going back to our car, and Dale put a bobber on her fly line. Two "problems": first, even with casual paddling, Rosie was going so fast that the bobber was just skipping across the water. And more importantly, this revealed even more how quiet Rosie is in the water: the bobber made a LOT more noise than theboat! When we paddle quietly, we are like ghosts on the water. This is really special and spectacular.
On our last day we went down Depot Lake, through Trout Lake, Grandeur Lake, and into Marshland Lake. Overall distance was over 12 miles, and we averaged just about 4 mph, over 6 km/h, just fooling around. I think when even we two over-50 out of shape people put the effort in a bit, we can get up to 6 mph easily (10 km/h), and somebody who was in good shape could probably break the sound barrier. (Well... Rosie doesn't make any noise, so how could we know?)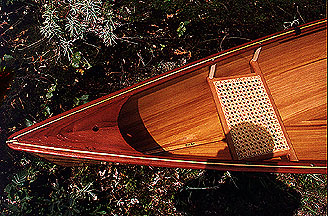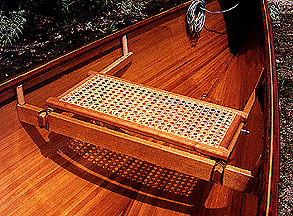 We made a sliding front seat, a lot like the designs in the Swift version of the Kipawa and others. It's a bit of a trick to get all of the parts to fit, but I think we've succeeded, and it gives a very stable seat that moves forward and back about a foot. The parts are all cherry, to match the cherry seats. (We caned the seats ourselves, by the way, using plastic caning. Came out great. We used Gil Gilloley's book for that.)
So, to you all, thank you! Making this canoe has been a wonderful experience out of our busy lives, and now that she's had her maiden voyage, we can say with assurance that she lives up to our fondest hopes, and to all you've promised in your designs.
One afternoon (in shallow water!) we were horsing around trying to see what it took to dump over. (We succeeded several times, but it does have good secondary stability.) While we were doing this, a fellow at the beach asked "Is that a Canadian Canoe?" Yep, we replied. It turns out he's been looking at the Winisk, and observed (correctly) that the Winisk looked a lot like this canoe. "It's the Winisk's little sister," we told him. So... there's another customer awaiting, either for Swift or Green Valley.
We got many, many comments and oohs and aahs about Rosie. Particularly when we had her roof topped to go to other rivers or lakes, or while inElliot lake for shopping. As you have probably heard yourselves, there are a lot of people who have "always wanted to do something like that" but never got around to it. There are a lot of people who find it incredible that two ordinary people like us could produce something so beautiful as Rosie. But everybody who looks and comes up to talk about it is very effusive in their praise.
Are we hooked? We are already thinking about our second effort...
Chuck and Dale Phelps
Pittsford, NY


---
Return to the Kipawa page.
Return To Home Page
---