Green Valley Boat Works
Canoe and Kayak Plans For Sale
We sell plans for contemporary, high performance Canoes and Kayaks from a full range of designs by John Winters. Models which are available in both standard paper plans and in electronic format include the Kite, Kipawa, Kipawa S+G, Winisk, Osprey, Mattawa, Cirrus, Barracuda, Quetico (check out the new photos of the Quetico), North Canoe, Square Stern North Canoe, Caspian Sea, Tasman Sea, and the North Sea.

A number of additional models are also available in electronic format only. These models include the Yukon, Raven, Dumoine, Shearwater, the Bering Sea, the Rob Roy, and the square stern Nipissing. Also, we now have the Kite S+G plans complete with CNC-ready files, and, by popular request, the new Nipissing, a Square Stern Tripping Canoe! Note: over the next few months we will be adding web pages and printed plans for all of these models. If you need one of these and you don't see it yet, check with us for availability.

The Square Stern North Canoe plans are available with a full set of (5) full-sized printed paper plans, as well as a complete suite of electronic files including (7) CNC Router-ready files for all stations.

We also have The Shape of the Canoe by John Winters, which is an invaluable technical guide on CD-ROM for anyone who wants to design their own canoe or other paddle-powered watercraft - it even includes three design programs!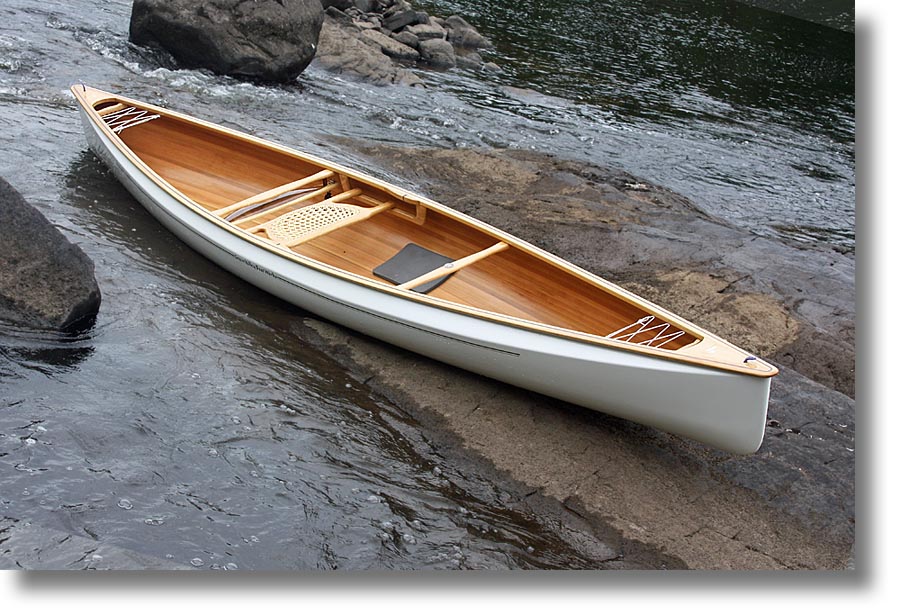 This is the first of a new solo canoe design, Kite, built by Martin Step. The Kite is a modified Osprey, with the only difference being the revised chine, which now sweeps gracefully from the tip of the bow to the tip of the stern. This gives a far nicer line to the gunwales. All of the Kite photos are by Kim Viney of Bracebridge, ON.
This gorgeous cedar strip canoe features a painted outer hull, with a natural cedar strip finish inside. The natural interior provides a lovely contrast to the exterior, which looks like a top-quality factory finish. This is a great alternative when the wood strips are not the most attractive colour or grain. Notice the sleek lines of this fast, quiet tripping canoe, as well as the graceful seat design, which is the perfect finishing touch for your hand built masterpiece. This seat design is a Green Valley exclusive, and can be seen in more detail here. Also note our custom removable portage yoke system. You can read all about the Kite here.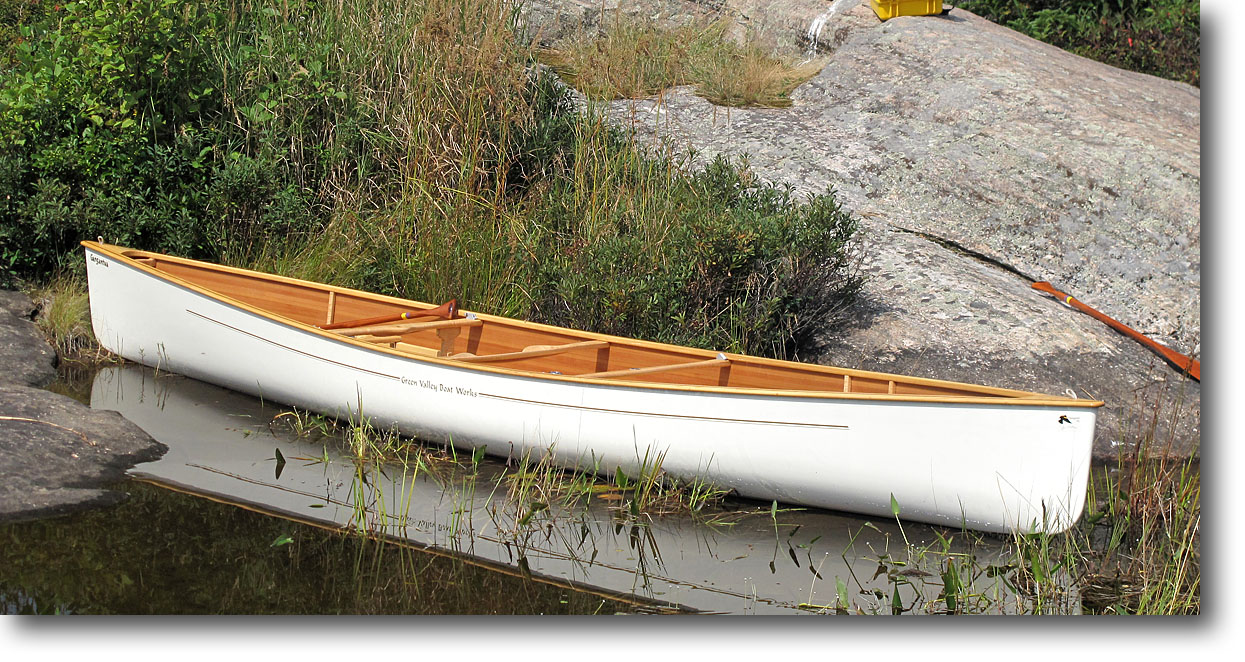 This was one of our later Winisk's. This one was named "Gargantua," after one of our favourite paddling areas. The Winisk, is a great tripping canoe, and good looking too!
Our plans are suitable for the home craftsman who wants to build a fine wood-strip boat. Our computer generated plans feature full-sized detailed drawings of each Station and Stem Mould, saving you the often difficult job of laying out the forms. The drawings are loaded with tips, techniques, shortcuts, and alternatives, provided by Martin Step, a mechanical engineer, and an experienced home-builder.
Purchasers of these plans are also provided with a registered serial number, a set of designer's decals, and on-line help via e-mail from both the designer, John Winters, and from Martin Step, who prepared the drawing package.
All of our plans are now available in electronic format on CD-R or by e-mail - all you need is access to a wide-format printer to print E-Size sheets (34" x 44").
You can also visit our Web Site Directory, or go directly to the newly updated Models page to see the all the available plans, or to Order Plans, and the Builder's Notes including a new section on Fitting the Stern Seat, technical articles by John Winters, and all kinds of other interesting stuff, including our good friends at Hurley Canoe Company, and our Links.
If you are confused by all the different types and sizes of canoes available today, and you don't know which one will work best for you, check out the recently added article by John Winters, "Choosing Your Canoe".


Green Valley will be closed from about August 4, 2020 until August 27. Any orders for paper plans received during this time will be processed on our return. We will be able to process orders for plans by electronic delivery sporadically during this period, as we have internet access. If you are in a hurry for paper plans, try Noah's Marine, who stock most of our plans.
Updated August 2, 2020
---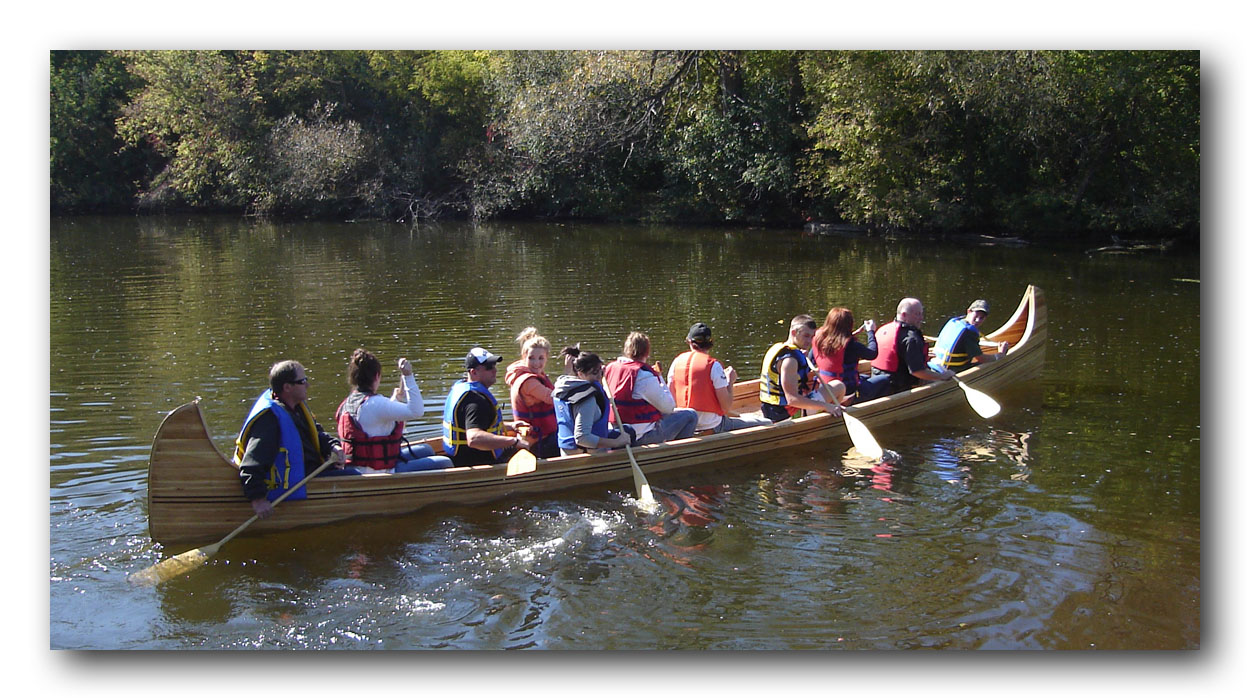 The North Canoe
Looking for a good project for your school, Boy Scout Troop, Summer Camp, or charity racing event? The handsome North Canoe shown above was built by Peter Tamlin and his students at the I. E. Weldon Secondary School in Lindsay, Ontario. This is a John Winters design, built with Green Valley Boat Works plans. This same canoe is also featured in Ted Moores' latest 2016 edition of Canoecraft, a book which is a must for all aspiring canoe builders.
We offer plans for the North Canoe in both Recreational and a Racing versions. The Recreational version can be built in either the traditional Voyageur style with the high ends, or in a Modern style with low ends. On the other hand, the 28' Racing version is a very modern, asymmetric hull, and is designed for pure speed! North Canoe plans are ONLY offered in electronic format, on CD-R or by e-mail. Now available at regular prices!!


The Shape of the Canoe by John Winters, is the first and only book dedicated to the design of small paddle powered boats. is now available from Green valley Boat Works. This is a must-have for anyone thinking of designing their own canoe, or anyone who just wants an understanding of why different canoes perform the way they do. The Shape of the Canoe, in Adobe PDF format, plus a bonus of three design programs (KAPER, CANTRAC, and BEARBOAT) which are all used by John, are all on one CD-R, for both PC's and MAC's.



Looking for boat building books? Try our revised and updated on-line Green Valley Boat Works Book Store and get a head-start on your first boatbuilding project!



---
For fast response, use See our Order Page for details.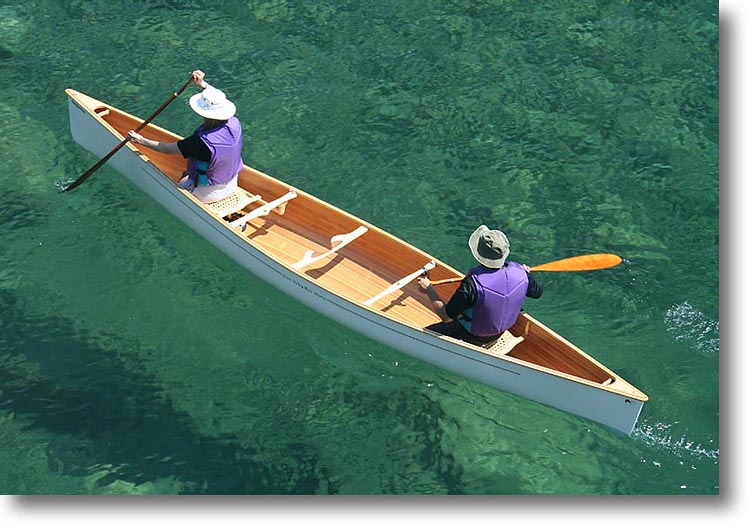 This beautiful Winisk, was named "Gargantua" after the Cape Gargantua area of Lake Superior, and is being paddled in its namesake location! One look at that crystal clear water and you can see why this area was revered by Bill Mason and thousands of others since.


We have posted some new photos of a lovely pair of Tasman Sea's built by Bruce Hillstrom of Bridgewater, NS. Have a look!


If you're thinking about building one of our wood strip canoes, you might like to read the letter sent to us by Chuck Phelps of Pittsford, NY, telling us about "Rosie," his Kipawa 'stripper'! And now, we have a new letter from Chuck in which he tells us about his second and third canoes, one of which is a spectacular stretched Mattawa called "Cinnamon."


To go along with that masterpiece Osprey you're thinking of building, have a look at a very special removable Portage Yoke which was made for the most recent Green Valley Osprey. Do you think you're up to making one of these?


A new section has been added to the Builder's Notes dealing with repairs to the hull on your woodstrip canoe.


Green Valley plans and kits can also be purchased from Noah's. They accept Visa, Mastercard and American Express in either US or Canadian dollar accounts. Noah's carries an extensive inventory of everything you need for 'your ark', and you'll find their knowledgeable staff very helpful in selecting the right products to complete your project. They have everything from the strips to trim, all the power tools, and at least four brands of epoxy. Good advice and good people - give them a call! Click on this link for a quick tour of Noah's.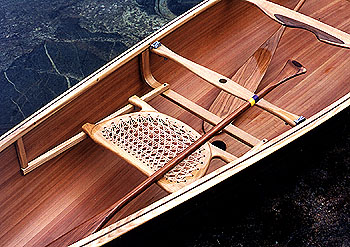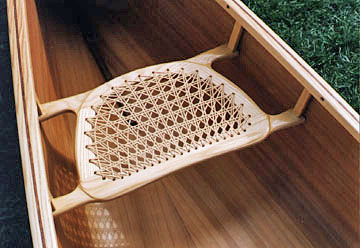 Seat Plans are now available. Full size plans including caning directions for the seats shown above can be ordered directly from Green Valley. These seats could be just the finishing touch your project needs. See address at bottom of page. (Read some happy customers' comments about our Seat Plans.) These seats can be built for the bow, the stern, or as a slider, even for a solo canoe. Details of the laminated support in the photo are not included, but you would normally use a straight cross bar suspended on hanger bolts with wooden spacer blocks.


For some detailed instruction on Making Stems, Gunwales and Bead & Cove Strips, Staining the Hull, 'Glassing the Inside of the Hull, and Varnishing, including Martin's trademark wrap-around ends and inlays, consult the Builder's Notes. Included are such topics as the secrets of the "Hidden Hardware System", as can be seen in the seat photo above, and the "No Staple" method of strip building. The most recent additions include a section detailing a very special removeable portage yoke system for the custom built solo canoe, and a section on repairing a damaged hull. We welcome your comments.


Ever wondered what your finished cedarstrip canoe or kayak will weigh? Read John Winters' article for the answer.


Our most popular model continues to be the Kipawa, but don't overlook our other very interesting models. If you want a solo, but really need a small tandem, check out the Mattawa - I don't recall ever having seen such an overwhelmingly positive reaction to a new design. For speed demons only: the Barracuda is John Winter's latest design, and maybe the fastest non-competition solo canoe you can build. In fact, it's not even legal for racing! If you ever dreamed of a really fast tripper, you need look no further than the Cirrus. The Cirrus is also really popular for the concrete canoe builders. If you are looking for a roomy, wilderness tripping canoe for that expedition you're planning, the Quetico, may be just what you're looking for. It is a very fast, high-volume 18'4" flat water tripping canoe, and is sure to be a winner! We also offer John Winters designed kayaks, the Caspian Sea, Tasman Sea, and the North Sea.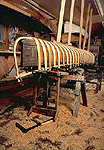 Our good friend Jack Hurley at Hurley Canoe in Dwight is happy to report that things are still going strong. Check out the latest addition. Even if you aren't in the market for one of their beautiful (and under-priced!) cedar canvas canoes, you should see their canoe shelves, built on the same mould as the real canoes! Once you see them, you'll want one for your home or office. Hurley Canoe specializes in canoe restorations. So, if any of you have a classic heirloom cedar canvas canoe in need of repair or total restoration, this is a perfect winter project for Jack and his crew, and you will have your canoe back by next summer as good as new.


If you can't find what you're looking for elsewhere on this web site, contact Martin Step.






Martin Step
Green Valley Boat Works
P.O. Box 20004, Pioneer Park Postal Outlet
Kitchener, Ontario, Canada
N2P 2B4
---


---